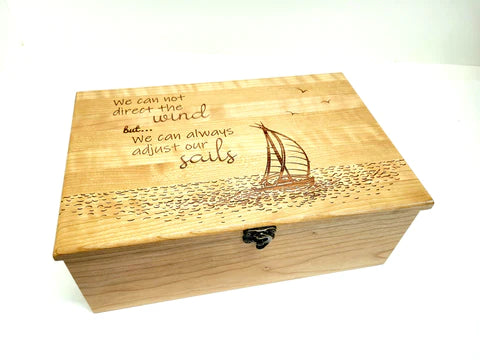 Gift Ideas
Top 10 Creative And Sentimental Graduation Gift Ideas For Sister
Navigating the wonderful, yet often perplexing realm of graduation gift ideas for sister can seem challenging, but it doesn't have to be! We want to help you honor your sister's achievement in a meaningful and memorable way. This blog post aims to provide unique and thoughtful suggestions to suit every personality and preference.
How can I congratulate my sister on her graduation day?
A heartfelt letter, coupled with a thoughtful gift, is a wonderful way to express your pride and love on her graduation day. Whether you're looking for high school highchool gift ideas for a sister, or seeking something for a recent college graduate, we've got you covered. The aim is to choose something that will serve as a memorable keepsake for this major milestone, and which will carry a touch of your personal bond.
How much should I give my sister for her graduation?
When it comes to gift ideas for sister, whether it's for your little sister or elder one, the monetary value isn't as important as the sentiment behind the gift. Most people typically spend between $20 to $100 on graduation gifts, depending on their budget. But remember, it's the thoughtfulness of the gesture that matters most.
Top 10 Amazing Graduation Gift Ideas For Sister
In the journey of celebrating your sister's academic achievements, finding the perfect gift can truly encapsulate your pride and joy. Here are the top 10 amazing graduation gift ideas for sister, each thoughtfully chosen to celebrate her milestone and support her in the next chapter of her life.
Digital Planners or Note-Taking Devices to enhance her productivity
If she is stepping into the world of university or a professional career, a digital planner or note-taking device can help her stay organized and productive. Whether she is transitioning into university or embarking on a new professional journey, this tool will become an indispensable part of her daily routine.
Graduation Gift Ideas For Your Sister: Digital Planners
Professional Attire or Accessories for interviews and work
Help her make a stellar impression at interviews or in the workplace with stylish professional attire. A personalized mug with her name or initials would also serve as a cute graduation gift for a sister.
Graduation Gift Ideas For Sister: Custom Mug
Latest Gadgets like Smartwatches or Noise-Canceling Headphones
If your sister is a gadget enthusiast, the latest smartwatch could make her day. A smartwatch or a set of noise-canceling headphones can make for impressive graduation gift ideas for sister.
Meditation App Subscription or Mindfulness Tools for self-care
As she steps into a new phase, equip her with mindfulness tools. A subscription to a meditation app can help maintain her mental health in the hustle and bustle of life.
Customized Wall Art or Canvas with an inspirational quote
An art piece such as a custom canvas carrying an inspiring quote would serve as a daily reminder of her strength and ambition. Such graduation gift ideas for a sister can provide encouragement and motivation.
Graduation Gift Ideas For Sister From Sister: Canvas
Engraved Jewelry with her initials or graduation year
A piece of jewelry engraved with her initials or graduation year will forever be a token of this milestone. This could be a charm, a ring, or a bracelet – a timeless graduation gift idea for sisters.
Personalized T-shirt that shows your sister bond
Celebrate the unbreakable bond between you two with a personalized T-shirt. It could feature an inside joke, a memorable picture, or a quote that perfectly describes your relationship. This is a fun, casual gift that she can wear and remember you by.
Gift Ideas For Sister Graduation: T-shirt
Courses or Workshops related to her field of interest
An online course or workshop in her field can enhance her skills and make her more competitive. This graduation gift idea for sister will show how much you believe in her potential.
Personalized Graduation Memory Box filled with mementos and well-wishes
A memory box, carefully filled with mementos like photos, letters, the graduation cap tassel, and other souvenirs from her graduation, can make her revisit this special day with a smile. This heartwarming personalized gift will let her cherish these precious memories for years to come.
Gift Ideas For Sister's Graduation: Memory Box
Personalized Graduation Cap or Diploma Holder 
Lastly, a customized graduation cap or diploma holder is a practical and special gift. Adorned with her name and graduation year, this holder will not only protect her hard-earned diploma but will also serve as a display piece, reminding her of her academic journey.
Finding Personalized Graduation Gifts For Sister At Personal House
If you're on the hunt for the perfect personalized graduation gifts for someone, then look no further than Personal House. With an extensive range of tailor-made items and easy-to-use personalization tools, this online gift store truly stands out in the gifting landscape.
Personal House understands the importance of customization when it comes to personalized gifts for sister. They ensure that you can add a unique touch to each item. From engraving initials or graduation years on jewelry to customizing the design on a T-shirt, Personal House offers a myriad of personalization options to choose from.
Shopping at Personal House means experiencing a user-friendly interface that ensures the customization process is smooth and efficient. Their attentive customer service team is always ready to assist you if you need help personalizing your gifts.
>>> Read more: Unique present ideas for sister
Conclusion
When it comes to graduation gift ideas for sister, the key is to choose something meaningful that resonates with her unique personality and interests. Remember, it's not about the price tag but the thoughtfulness that goes into selecting the perfect gift. After all, graduation is a significant milestone, and the gift should reflect the love, pride, and joy you feel for her achievement. So go ahead, explore these ideas, and make your sister's graduation day even more memorable with a gift that she'll treasure forever.