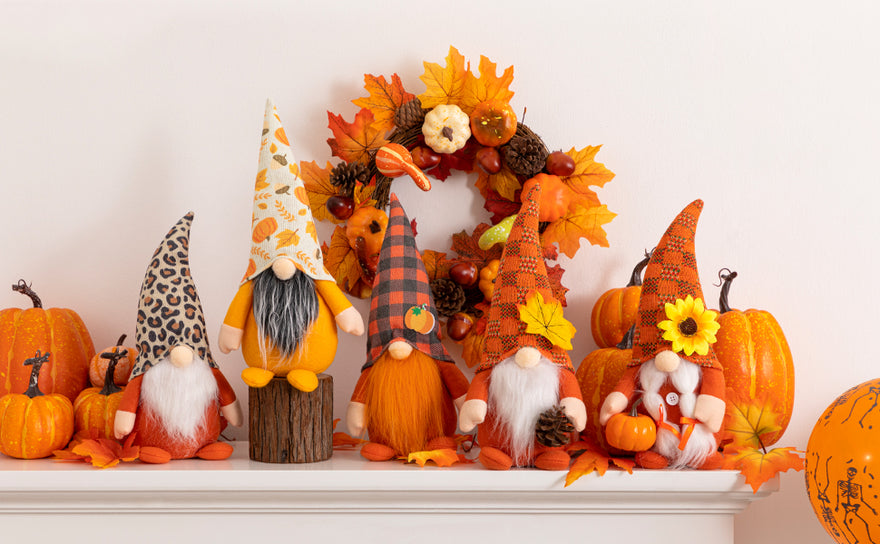 Top Gifts
Top 12 Thoughtful Thanksgiving Gift Ideas For Employees
As the season of gratitude approaches, finding the perfect Thanksgiving gift ideas for employees becomes a meaningful endeavor. At Personal House, we explore diverse and curated gift ideas, ensuring your employees feel valued and celebrated during this festive season.
What Does Thanksgiving Mean?
Thanksgiving, celebrated on the fourth Thursday of November in the United States, is a cherished tradition embodying gratitude and communal unity. Originating from the early 17th-century harvest gatherings between Pilgrims and Native Americans, this holiday has transformed into a nationwide occasion for expressing thanks. The day is characterized by joyous feasts where families and friends come together, sharing in a plentiful meal while expressing gratitude for the blessings of the preceding year. 
Thoughtful Thanksgiving Gifts For Everyone
In the spirit of Thanksgiving Day traditions and expressions of gratitude, the next step is to elevate the celebration with thoughtful gifts for employees. As we delve into top thanksgiving employee gift ideas we aim to extend the essence of this holiday by curating presents that reflect appreciation and recognition. Let's explore how meaningful tokens can enhance the festive spirit and convey genuine thanks to your hardworking employees.
Top 12 Thoughtful Thanksgiving Gift Ideas For Employees
In this guide, we present the best Thanksgiving employee gift ideas, including customizable gifts designed to express appreciation and elevate the festive spirit. From personalized tokens of gratitude to wellness-enhancing gifts, this collection aims to celebrate the hard work and dedication of your team, ensuring a memorable and meaningful Thanksgiving for all.
Elegant Home Decor Ideas For Employee Thanksgiving Gifts
Elevate the spirit of gratitude this Thanksgiving with Elegant Home Decor Ideas for Employee Gifts, a curated selection designed to bring warmth and sophistication to your team's living spaces. These thoughtful gifts add a touch of style to employees' homes.
Crafted with precision, these customized door mats offer a personalized touch, featuring the recipient's name, a welcoming message, or even the company logo. The durable and high-quality materials ensure longevity, making these mats both functional and aesthetically pleasing. These door mats convey a sense of appreciation for employees' contributions.
Custom Door Mat As An Elegant Home Decor Ideas For Employee Thanksgiving Gifts
Crafted with meticulous detail, these ornaments add a touch of enchantment to any living space. With their charming designs and vibrant colors, these Thanksgiving gift ideas for employees serve as timeless keepsakes. These ornaments bring a unique blend of joy and sophistication to employees' homes, making them a delightful and memorable Thanksgiving gift.
Elevate employees' home decor with customizable Thanksgiving gifts as wall art. Custom prints featuring motivational quotes or team mottos add a touch of sophistication and personalization to their living spaces. This elegant and meaningful gift serves as a constant reminder of their contributions and the positive impact they've made within the workplace.
In the essence of giving thanks, these elegant home decor ideas for employees this Thanksgiving Daypromise to enhance the festive season. Each carefully chosen item serves as a tasteful token of gratitude, which you can consider as the best Thanksgiving gift ideas for staff.
Creative Team-Building Gift Ideas For Thanksgiving For Employees
Unite your team in the spirit of Thanksgiving with our collection of Thanksgiving present ideas for employees. These carefully curated gifts foster collaboration, strengthen bonds, and infuse the holiday season with a sense of shared achievement.
Virtual Escape Room Experience
Foster teamwork and camaraderie with a virtual escape room experience, give them team custom T-shirts to boost up their spirit. This engaging and collaborative activity challenges employees to solve puzzles together, promoting a sense of unity and shared achievement. The virtual setting adds a modern and accessible twist to team-building, making it one of memorable and interactive Thanksgiving gift ideas for employees.
Custom T-shirts Ideas For Thanksgiving Gifts For Employees
Cultivate creativity and collaboration with DIY terrarium kits as gift ideas for employees for Thanksgiving. These hands-on gifts allow employees to build personalized mini-gardens, fostering teamwork and creative expression in a fun and interactive way. The kits provide a unique and enjoyable team-building experience, making it a thoughtful and engaging Thanksgiving gift.
Celebrate the uniqueness of your team with team artwork customized with Thanksgiving quotes. Commission a local artist to create a personalized illustration or painting that reflects the team's spirit, serving as a meaningful and lasting tribute. This bespoke gift adds a touch of artistry and team pride to employees' workspaces, making it a thoughtful and visually impactful Thanksgiving gift.
These Thanksgiving gifts for employees provide opportunities for teams to come together, collaborate, and celebrate collective accomplishments. From virtual escape rooms to DIY projects, these gifts create lasting memories of teamwork and camaraderie.
Thoughtful Edible Thanksgiving Gift Ideas For Employees
Savor the spirit of gratitude this holiday with our edible Thanksgiving gift ideas for your employees. From decadent chocolates to gourmet popcorn, these delectable treats are not only a feast for the taste buds but also a heartfelt way to express appreciation for your hardworking team.
Elevate snacking with a gourmet popcorn sampler. Featuring unique flavors like caramel sea salt and white cheddar, these Thanksgiving gift ideas for your employees provides a delightful combination of sweet and savory treats for them to enjoy. The gourmet touch adds a touch of indulgence to the Thanksgiving celebration, making it a tasteful and enjoyable gift.
Thoughtful Edible Thanksgiving Gift Ideas For Your Employees
Consider what is Thanksgiving this year to take time to prepare customized cookie kits as gifts for your employees. These delightful packages include all the ingredients for a fun and festive baking experience, allowing employees to create delicious treats at home. The customization adds an extra layer of thoughtfulness, making it a delightful and engaging Thanksgiving gift.
Artisanal Chocolate Truffles Box
Indulge employees' sweet cravings with a box of artisanal chocolate truffles. Each piece is a decadent delight, crafted with precision to create a luxurious and delectable experience. This thoughtful Thanksgiving gift for employees brings a touch of sweetness to the celebration, appealing to the senses and conveying appreciation in a delightful way.
Indulge your employees in the joy of giving thanks with these Thoughtful Edible Gifts. From artisanal chocolates to personalized cookie kits, these delectable treats serve as delightful expressions of gratitude, creating a memorable and flavorful Thanksgiving celebration for your dedicated team.
Wellness and Self-Care Employee Thanksgiving Gift Ideas 
Prioritize well-being and self-care this Thanksgiving season with our collection of Wellness and Self-Care Gift Ideas for Employees. These thoughtful gifts not only express gratitude but also promote relaxation and holistic wellness among your hardworking team.
Aromatherapy Diffuser Set
Promote relaxation and well-being with an aromatherapy diffuser set. This thoughtful gift creates a soothing atmosphere, allowing employees to unwind and prioritize self-care in the comfort of their homes. The calming scents and ambient lighting contribute to a peaceful environment, making it one of the perfect Thanksgiving gift ideas for employees for relaxation.
Thoughtful Employee Thanksgiving Gift Ideas: Aromatherapy Diffuser Set
Luxurious Spa Gift Basket
Bring the spa experience to employees with a luxurious spa gift basket. Filled with high-quality bath salts, scented candles, and pampering essentials, this gift encourages relaxation and self-indulgence. The indulgent items in the basket create a spa-like ambiance, providing a rejuvenating escape during the Thanksgiving season.
Fitness Tracker and Wellness Journal
Support employees' health goals with a fitness tracker and wellness journal. These practical Thanksgiving employee gift ideas help them stay active and mindful, providing a holistic approach to well-being during the holiday season. The combination of fitness tracking and journaling promotes a healthy lifestyle, making it a thoughtful and proactive Thanksgiving gift.
In the spirit of giving thanks, these Wellness and Self-Care Gift Ideas offer rejuvenation and mindful moments. Elevate the Thanksgiving experience for your employees by gifting them items that contribute to their mental and physical well-being, creating a meaningful and health-conscious celebration.
How To Ensure Your Thanksgiving Gifts Are Well-Received?
Ensuring your Thanksgiving gifts are well-received is a nuanced task that requires thoughtful consideration and a keen understanding of your employees' preferences. From personalization to cultural sensitivity, each aspect plays a crucial role in making the gesture meaningful and appreciated.
Understand Individual Preferences
To ensure your Thanksgiving gift ideas for employees resonate with employees, take the time to understand their individual preferences. Conduct surveys or engage in casual conversations to grasp their likes, dislikes, dietary restrictions, and personal interests. 
Finding Perfect Thanksgiving Gifts According To Individual Preferences
Personalization Adds a Touch
Opting for personalized gifts or messages adds a distinctive touch to your Thanksgiving gestures. When gifts are tailored to individuals, it shows genuine thought and consideration, making recipients feel valued and appreciated. 
Consider Cultural Sensitivities
Avoid the gift for employees for Thanksgiving that may unintentionally offend or exclude certain groups, and opt for options that are inclusive and culturally neutral. By navigating cultural considerations, you ensure that your Thanksgiving gifts are universally appreciated and respectful of individual backgrounds.
Offer Variety in Gift Options
Consider different categories such as wellness, gourmet, or personalized items to offer a broad selection. This variety ensures there is something for everyone, promoting inclusivity and making each employee feel seen and valued.
Budget-Friendly and Inclusive
Avoiding extravagant gifts prevents creating disparities or discomfort among employees. By ensuring that the cost of gifts aligns with a reasonable budget, you guarantee that the gesture of appreciation is accessible and well-received by all.
Accompany Gifts with a Grateful Message
Including a heartfelt note expressing gratitude alongside your Thanksgiving gift ideas for employees adds a personal and meaningful touch. Acknowledge specific contributions and the impact of employees' efforts, connecting the message to the significance of Thanksgiving. 
Accompany Employees Thanksgiving Gifts with a Grateful Message
Create an Inclusive Celebration
Organizing a virtual or in-person celebration fosters a sense of community and shared gratitude among employees. A collective celebration enhances the overall reception of the gifts by creating a shared experience. 
In summary, guaranteeing the success of your Thanksgiving gifts involves a comprehensive approach. By incorporating these strategies, you contribute to a workplace culture where gratitude is genuinely felt and celebrated.
Last Thought
Let your Thanksgiving gift ideas for staff not just convey appreciation but also echo the value of the relationships you share with your team. These thoughtful gestures contribute to a workplace where gratitude becomes a shared language, strengthening the bonds that make your team a close-knit community.