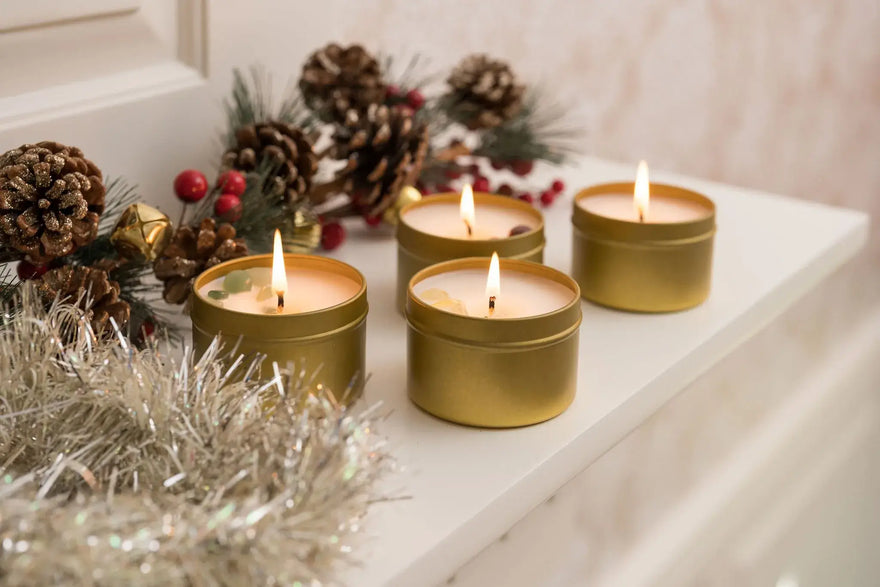 Gift Ideas
Top 32 Thoughtful Secret Santa Gift Ideas For A Festive Season
Christmas is coming, and what better way to celebrate than with the enchanting of Secret Santa gift ideas? Dive into the world of thoughtful surprises and unique finds as we explore a curated list of present ideas. Whether your recipient is a colleague, friend, or family member, this guide has you covered.
The Tradition Of Gift-Giving From Secret Santa 
The holiday season brings with it not just the chill in the air and the scent of evergreen, but also the heartwarming tradition of Secret Santa. Originating from a variety of cultural practices and often linked to the Christmas season, Secret Santa is a joyous gift-giving game that adds an extra layer of excitement to holiday festivities.
The roots of Secret Santa can be traced back to Scandinavia, where it is known as "Julklapp". The concept gained popularity in Western cultures through various iterations, finding its way into workplaces, friend groups, and family gatherings. The mechanics are simple yet delightful-participants draw names randomly, becoming the designated Secret Santa for the chosen person.
Personalized Journal Ideas For Secret Santa Gifts
At its core, Secret Santa presents ideas for friends, family or anyone who embodies the spirit of generosity, surprise, and connection. Participants carefully select Secret Santa gifts ideas based on the preferences and interests of their assigned recipient, often leading to thoughtful and personalized surprises. 
32 Best Great Secret Santa Gift Ideas To Spark Holiday Magic
Welcome to the enchanting world of holiday generosity and surprises! In the spirit of Secret Santa exchanges, we've curated unique gifts for Secret Santa ideas to infuse your celebrations with joy and wonder. Each carefully selected gift is not just a present but a spark of holiday magic waiting to unfold.
The Classics Reimagined Ideas For Your Secret Santa Gifts
Discover a realm where classy style and considerate giving collide in some classic reimagined ideas for your Secret Santa Xmas gifts. We look at a variety of gifts in this selection that are meant to take your Secret Santa exchange to the next level.
Beyond being vessels for beverages, these customized Christmas mugs are emissaries of sentiment. The artistry lies in the personalization-a name, a favorite quote, or a special message etched onto the ceramic canvas. Each sip becomes an intimate experience, a moment of connection with the giver, transcending the ordinary act of drinking coffee or tea.
Customized Mugs Ideas For Your Secret Santa Gifts
These cozy blankets are a sensory experience. Selected for their softness and aesthetic appeal, they are an invitation to comfort and relaxation. Whether draped over a couch, spread across a bed, or wrapped around shoulders, Secret Santa gift ideas provide a cocoon of coziness. Each touch is a tactile delight, a reminder that warmth is a feeling, a sense of home embodied in textile form.
Far from being ordinary candles, these scented Xmas present ideas marvels are olfactory journeys. Carefully chosen fragrances like lavender for relaxation or vanilla for comfort transform any room into a haven of sensory bliss. These candles are about creating an ambiance, an atmosphere where the recipient can unwind, de-stress, and find solace in the delicate dance of scents.
Embrace the spirit of giving with these classics reimagined, ensuring your Secret Santa surprises are not just gifts but cherished moments of warmth and style. These ideas bring a touch of class to your holiday celebrations.
Bookworm's Delight For Secret Santa Present Idea
Get inspired by books and take a literary trip with our gift ideas for bookworms from Secret Santa. We explore the world of personalized bookmarks, journals, and bestsellers in this collection, providing ideal presents for people who find comfort and happiness in the pages of a good book.
These Christmas bookmarks are miniature artworks of gift ideas for holiday. From elegant designs to literary quotes, each piece is crafted with precision and elegance. The recipient doesn't just use them to mark pages; they become visual companions on a literary adventure. Each time they open a book, they're greeted by a touch of sophistication, a reminder that reading is not just an activity but an aesthetic experience.
Christmas Bookmarks Set For Secret Santa Present Ideas
The chosen bestsellers are Secret Santa gift ideas and a portal to a captivating realm. Tailored to the recipient's preferred genre, it's a carefully selected narrative that promises not just entertainment but immersion. It's an exploration of characters, themes, and emotions that captivate the reader, making it a thoughtful gift for those who cherish the magic of storytelling, especially for Secret Santa gifts for coworkers.
Consider other custom Christmas gifts like personalized journals, which are a sanctuary for thoughts and reflections. Customized with a name or a special message, it becomes a uniquely personal space for the recipient's innermost musings. It's a Secret Santa present idea that encourages not just writing but the art of storytelling, making it a cherished possession.
These bookworm's delight ideas transform the act of reading into a visually pleasing and deeply personal experience. These gifts speak to the heart of every book enthusiast, making the holiday season truly delightful.
Fashion Ideas For Secret Santa Gifts
Elevate the joy of gifting with our curated collection of fashionable gift ideas from Secret Santa. From chic scarves to statement earrings and customized tote bags, these stylish gifts add a touch of flair to the festive season, making your Secret Santa exchange a runway of delight.
Unique Christmas T-shirts
Embrace the festive spirit with unique Christmas T-shirts as extraordinary fashion items for Secret Santa's Gift Ideas. These T-shirts are not just garments; they're festive canvases, adorned with whimsical designs that capture the merriment of the season. From playful reindeer to Santa's jolly visage, each shirt is a wearable celebration, adding a dash of holiday cheer to any wardrobe.
Unique Christmas T-shirts Ideas For Secret Santa Gifts
These earrings are Secret Santa gift ideas that can be expressions of personality. Each pair, whether bold and vibrant or subtly elegant, communicates a unique sense of style. They go beyond accessorizing; they become reflections of individuality and confidence. These earrings are wearable statements that add a touch of glamor and personality to any ensemble.
Customized Funny Tote Bag
Inject a dose of laughter into the holiday season with funny gift ideas like customized tote bags, an exceptional choice for Secret Santa's Gift Ideas. These tote bags transcend the ordinary, featuring humorous designs and witty quotes that add a playful twist to everyday fashion. Beyond their utilitarian purpose, these funny Secret Santa gifts become wearable expressions of joy, turning mundane activities like grocery shopping into moments of amusement. 
Wrap your loved ones in warmth, make a statement with accessories, or merge style with practicality-these fashion ideas for Secret Santa gifts embody the spirit of thoughtful and personalized giving, ensuring the holiday celebrations are as fashionable as they are joyous.
Artisanal Treats For Your Secret Santa Xmas Gifts Ideas
Indulge in the exquisite pleasure of giving with artisanal treats for your Secret Santa gift ideas. In this delectable collection, we explore handcrafted soaps, local artisanal honey, and hand-blown glassware, offering a feast for the senses and a truly memorable Secret Santa experience.
Indulge their senses with a luxurious handcrafted soap set, which are touching Secret Santa personalized gifts for a friend. Meticulously created with natural ingredients, they offer a sensory journey through scents and textures. Each bar is a small indulgence, turning the daily routine of cleansing into a moment of relaxation and self-care.
Handcrafted Soap Set For Your Secret Santa Present ideas
Sweeten their culinary adventures with locally sourced artisanal honey, which is good for our health. And you can even consider these honey gifts as birthday ideas for pregnant women or for any other occasions. Sourced from local beekeepers, each jar carries the essence of the local terroir, offering a unique and delightful twist to culinary endeavors. 
Elevate their beverage experience with hand-blown glassware which are Secret Santa gifts under $25. Each glass, unique in design and craftsmanship, adds a touch of sophistication to every sip. From elegant wine glasses to stylish tumblers, they go beyond functionality; they're expressions of refined taste and a reminder that ordinary moments can be turned into extraordinary experiences.
Whether it's the spa-like indulgence of handcrafted soaps, the sweet journey of local honey, or the sophistication of hand-blown glassware, these Secret Santa gift ideas are a celebration of craftsmanship and thoughtful gifting, ensuring your Secret Santa surprises are nothing short of extraordinary.
Tips For Interesting Santa Gift-Giving This Holiday
The holiday season is not just about tinsel and mistletoe; it's also the time for Secret Santa exchanges that add a touch of excitement to festive gatherings. Make your gift-giving experience memorable with these tips that go beyond the ordinary, ensuring your Secret Santa surprises are as interesting as they are thoughtful.
Think Outside the Gift-Wrap
Consider experiential gifts or activities that go beyond physical items. Whether it's a cooking class, a spa day, or tickets to a show, these experiences create lasting memories.
Carefully Wrapping Secret Santa Gifts
Incorporate Inside Jokes or Shared Memories
If you share inside jokes or have special memories with the recipient, incorporate them into the gift. It adds a personal and nostalgic element that makes the present truly meaningful.
Choose a Theme for Group Consistency
If you're part of a Secret Santa group, consider choosing a theme for consistency. Whether it's a color scheme, a specific category like books or gadgets, or a common interest, a theme adds cohesiveness to the exchange.
Blend Humor with Thoughtfulness
Inject a dose of humor into your ideas for Secret Santa gifts while keeping it thoughtful. Funny socks, a witty mug, or a humorous desk accessory can bring joy and laughter to the recipient.
Create a Scavenger Hunt Experience
Make the gift reveal an adventure by organizing a scavenger hunt. Leave clues around the house or workplace, leading the recipient to the ultimate surprise, adding an element of suspense and fun.
With these tips, your Secret Santa gift-giving experience will not only be interesting but also a highlight of the holiday festivities, creating moments of joy and connection that last beyond the season.
Conclusion
Secret Santa gift ideas weave happiness and camaraderie like vibrant threads in the tapestry of holiday customs. Every present is a kind messenger, whether it's a reinterpreted classic, a bookworm's joy, a fashion gem, or an artisanal treat. Let's celebrate the custom of Secret Santa and the unique experiences it produces!