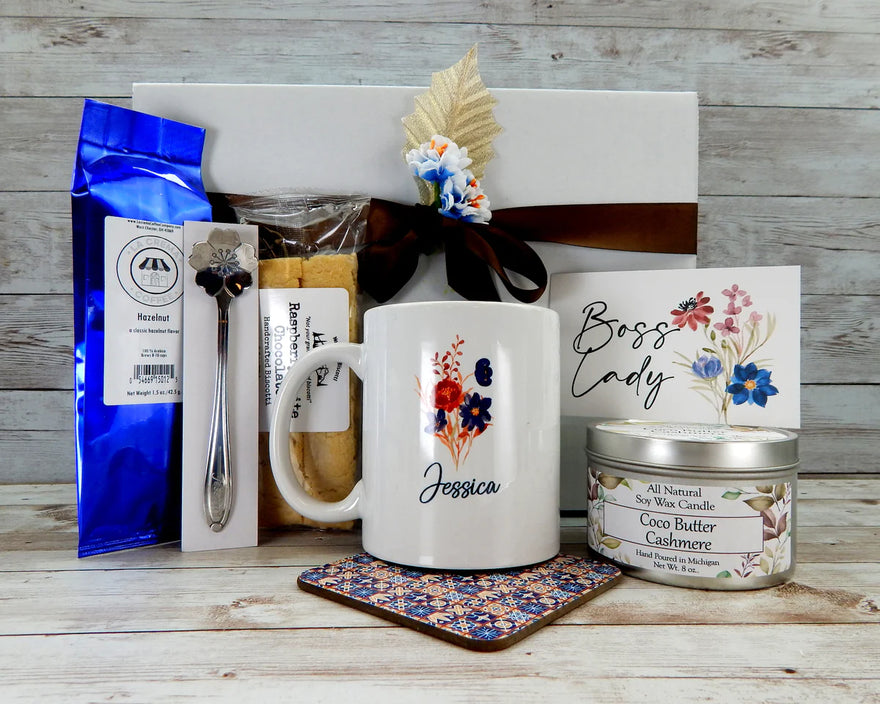 Gift Ideas
Unwrapping Joy: 23 Thoughtful Secret Santa Gift For The Boss
Engage your boss in the spirit of giving with a thoughtfully chosen Secret Santa gift for the boss. Personal House brings you a curated list of delightful presents that strike the perfect balance between professionalism and personal touch. Explore our recommendations below and make this holiday season memorable.
How to Choose the Perfect Secret Santa Gifts for Your Boss?
Selecting the perfect Secret Santa gift for your boss is a chance to show gratitude and deepen your professional bond. Let your heart guide you in this thoughtful process. Consider these steps to choose a unique gift that resonates with sincerity and truly captures the essence of a meaningful Secret Santa Gift for the boss:
Reflect on Their Interests and Hobbies
Think about what brings joy to your boss outside of work. Is it a particular hobby, a favorite pastime, or a cause they're passionate about? A gift related to their interests shows that you value them as a whole person.
How to Choose the Perfect Secret Santa Gifts for Your Boss?
Consider Their Professional Needs
Take note of any tools or accessories that could enhance their work environment. Maybe it's an elegant pen, a leather-bound notebook, or a desk organizer. These items not only serve a practical purpose but also convey your appreciation for their dedication.
Choose Quality Over Quantity
Opt for a gift of lasting quality rather than something disposable. A well-crafted item, even if it's small, speaks volumes about your thoughtfulness.
If there's a specific holiday or event around the corner, think about how your gift can align with the spirit of the occasion. It could be something festive, reflective, or even a token of hope and encouragement.
Select Gifts that Foster Wellness
Consider gifts that promote well-being, such as a calming essential oil diffuser, a mindfulness journal, or a cozy blanket. These items show that you care about their overall health and happiness, making them perfect choices for a thoughtful Secret Santa gift for the boss.
Choose a gift that carries a symbolic meaning. It could represent growth, wisdom, or gratitude. This adds a layer of depth to your gesture.
Secret Santa Gifts For Boss That Embrace Symbolism
Ultimately, trust your instincts and the emotional connection you share with your boss. Your sincerity will shine through, making any gift a meaningful token of your appreciation.
Remember, it's the thought and effort you put into selecting the gift that truly matters. Let your heart guide you, and you'll undoubtedly choose a Secret Santa coworker gift idea that resonates with warmth and genuine sentiment.
23 Heartfelt Secret Santa Gift for The Boss
Embark on a journey of heartfelt giving with our curated selection of heartfelt Secret Santa gifts for the boss, each one chosen with care to convey genuine appreciation and warmth.
Material Secret Santa Gifts For A Boss
As the holiday season approaches, finding the perfect gifts to give for a Secret Santa boss becomes a heartfelt endeavor. Explore these material gifts, curated to express gratitude and strengthen bonds.
Customized Leather Journal
Indulge in the art of journaling with a customized leather journal. Impeccably crafted, it bears a personal touch, with initials or a special message elegantly embossed. Its pages invite introspection and creativity, making it a cherished companion for recording thoughts and memories.
Elegant Desk Organizer Set
Elevate any workspace with an elegant desk organizer set. Meticulously designed, it combines functionality with sophistication. From polished pen holders to sleek file trays, each piece exudes refinement. This ensemble transforms clutter into a harmonious display, fostering productivity and aesthetic appeal.
Luxurious Cashmere Scarf for Boss Secret Santa Gift On Christmas
Wrap yourself in opulence with a luxurious cashmere scarf. Soft, lightweight, and exquisitely warm, it caresses the skin with unmatched comfort. Its timeless design complements any attire, adding an element of refinement to casual or formal ensembles. This scarf is an embodiment of both style and coziness.
Handcrafted with precision, the artisanal ceramic mug is a testament to craftsmanship. In your quest for Secret Santa present collections under $25, its unique glaze patterns and ergonomic design provide a tactile joy. With every sip, it delivers a sensory experience, making morning routines or cozy evenings special.
Personalized Wooden Keepsake Box
A personalized wooden keepsake box is a treasure trove of memories. Crafted from rich, natural wood, it exudes warmth and durability. Engraved with a name or meaningful message, it becomes a cherished vessel for storing mementos, ensuring moments are kept safe and close at heart.
DIY or Handmade Secret Santa Gift Ideas for Your Boss
Crafted with care and creativity, these DIY or handmade Christmas gifts for your boss carry a personal touch, making them ideal tokens of appreciation for a thoughtful Secret Santa gift for the boss.
Indulge in the divine with a gourmet chocolate box. Each piece is a work of edible art, meticulously crafted from the finest cocoa. Rich, velvety flavors unfold with every bite, offering a symphony of taste sensations that elevate moments of pure indulgence.
A personalized doormat for your boss is like extending a warm, welcoming embrace to everyone who steps through the door. It's not just a practical item; it's a symbol of thoughtfulness and consideration.
Personalized Doormat For Secret Santa Gift For The Boss
Hand-painted Watercolor Artwork
Create a custom watercolor painting featuring a scene or subject that holds sentimental value, making it one of the most cherished and heartfelt homemade Christmas gift ideas. Each brushstroke carries a piece of your heart, transforming it into a treasured masterpiece that resonates with warmth and emotion.
Handcrafted Wooden Coasters
Crafted with love, these coasters add a touch of rustic charm to any space, making them a wonderful Secret Santa gift for the boss. Each time they use these coasters, it will serve as a reminder of your heartfelt appreciation and the warm, inviting atmosphere you wish to extend to them.
Hand-stitched Leather Keychain
Craft a durable and stylish keychain using quality leather and personalized stitching. In the lineup of under $10 Secret Santa present options, this one is sure to express your gratitude and impress him.
Store-bought Treasures Gift for Boss Secret Santa
Discover the enchanting allure of store-bought treasures thoughtfully selected for your boss in this Secret Santa gift exchange, each item designed to convey heartfelt appreciation and spread holiday cheer.
A customized canvas for your boss is a deeply personal and heartfelt gesture. It's a work of art that transcends the ordinary, capturing the essence of their leadership and inspiration.
Elevate your senses with a designer perfume, a fragrance masterpiece. Exquisite blends of rare essences dance on the skin, leaving an unforgettable trail. The meticulously curated notes capture the essence of luxury, making every spray a sensory journey of elegance and allure.
Premium Leather Wallet - Secret Santa Gifts for Your Boss
A premium leather wallet exudes both style and substance. Meticulously crafted from the finest hides, it embodies sophistication and durability. With ample compartments for cards and cash, it marries form with function. This accessory is a timeless testament to refined taste and practicality.
Discover a stunning crystal vase, a true masterpiece that transforms even the most modest bouquet into a unique work of art, making it one of the most cherished and memorable gifts for boss Secret Santa.
Ideas for Secret Santa Gifts at Work: Final Thought
As you embark on this festive gift-giving journey, may the warmth of the season envelop you and your boss. We wishes you a joyful celebration filled with meaningful connections and unforgettable moments. Discover the perfect Secret Santa gift for the boss from our carefully curated selection, each item chosen with heart and consideration.