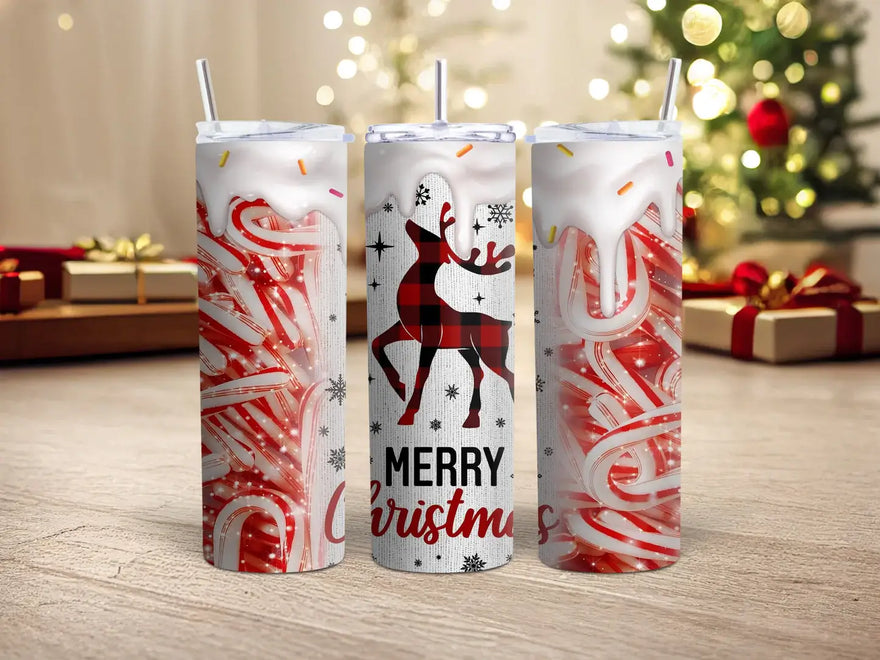 Gift Ideas
Top 9 Christmas Tumbler Ideas To Spark Festive Joy
Embrace the enchantment of the holiday season with our curated Christmas tumbler ideas guide. From cozy comforts to vibrant wonderlands, discover seven unique designs that will transform your simple tumbler into a festive masterpiece, spreading joy with every sip at Personal House.
Essentials For Crafting Your Own Tumbler: Get Ready to Create!
Gear up for a crafting adventure as we explore the essential elements needed to transform a simple cup into your personalized Christmas tumbler. From quality materials and safety gear to vibrant paints and personalization tools, this guide is your key to unlocking the creative journey of crafting your own unique cup.
Best Unique Christmas Tumbler Ideas For Family
Start with a solid foundation by choosing the right material for your cup. Options include ceramic, glass, stainless steel, or eco-friendly alternatives like bamboo. Pick a material that suits your style and purpose.
While creating your Christmas tumbler ideas, prioritize safety with essential gear. Invest in protective equipment like gloves and safety glasses to ensure a secure crafting experience. Safety should always be a top priority.
Whether you're piecing together different elements or adding embellishments, a reliable adhesive is crucial. Choose a strong, clear adhesive suitable for the material of your cup. Additionally, consider a sealant to protect your design and ensure longevity.
Elevate your cup with decorative elements that reflect your style and the occasion. This could include stickers, rhinestones, decals, or even hand-painted designs. Let your creativity shine through these personalized touches.
Bring your custom tumbler to life with vibrant colors. Invest in high-quality paints or markers designed for the material of your cup. Consider acrylic paints for versatility or specialized glass paints for a translucent finish.
Ensure precise application of paints and adhesives with a variety of brushes and applicators. Different brush sizes and shapes allow for detailed work, making your cup a true work of art.
Create a dedicated workspace for your cup crafting endeavors. Ensure proper ventilation, good lighting, and a clutter-free environment. A well-organized workspace enhances both efficiency and creativity.
Inspiring Quote Tumblers Ideas For Your Friend's Gift
If you're adding personal touches like names or quotes, consider tools for precise lettering. This could include alphabet stencils, lettering guides, or even custom decals for a polished finish.
Armed with these essentials, you're ready to embark on the exciting journey of crafting your own unique cup. Let your imagination run wild, and enjoy the process of turning a simple cup into a personalized masterpiece!
9 Best Unique Christmas Tumbler Ideas For You And Your Gift-Giving
This holiday season, elevate your gift-giving with our carefully curated selection of unique gifts with ideas for Christmas tumblers. From heartwarming family gifts to stylish options for friends and practical yet festive choices for colleagues, this list encompasses a diverse range of thoughtfully designed tumblers that promise to add a touch of joy to your holiday celebrations. 
Christmas Tumblers Ideas For Your Family's Gift
Embrace the spirit of the season with heartwarming Christmas tumbler ideas tailored for your family. From personalized memories to delightful DIY creations, these curated suggestions promise to transform every sip into a cherished holiday moment.
Design a tumbler collection for custom gifts for family featuring personalized photos, carefully curated to evoke sentimental moments. Use high-quality printing techniques to ensure vivid images, and consider arranging a chronological display to tell a visual story. Opt for durable and stylish materials to create a functional and sentimental keepsake for each family member. 
Christmas Tumblers Ideas For Your Family's Present
Warm Wishes Hot Cocoa Set
Craft cozy Christmas tumblers ideas by selecting premium tumblers and pairing them with a thoughtfully assembled hot cocoa set. Choose tumblers with double-walled insulation to maintain the warmth of the cocoa. Select gourmet cocoa mixes and marshmallows with unique flavors to elevate the experience. 
DIY Family Recipe Tumblers
Transform tumblers into customizable Christmas gifts by incorporating beloved family recipes. Choose high-quality tumblers with ample space for detailed instructions and ingredient lists. Opt for customization services that can seamlessly integrate the recipes into the tumbler design. Consider a thematic approach, such as using colors and images associated with the dishes for the personalized Christmas tumbler.
In this collection, discover a range of festive tumbler gifts designed to celebrate family bonds. Whether it's reliving memories through personalized photo tumblers or sharing the joy of family recipes, these ideas are a perfect blend of sentiment and practicality for your loved ones.
Christmas Tumbler Designs Ideas For Your Friends' Gift
Elevate your gift-giving game this Christmas with unique tumbler designs crafted exclusively for your friends. From coffee connoisseurs to cocktail enthusiasts, these thoughtful ideas promise to add a touch of warmth and style to their festive celebrations.
Wanderlust Adventure Tumbler Set
Select a high-quality tumbler with a durable and travel-friendly design especially perfect for gift ideas for couples who travel. Opt for a sleek, stainless steel construction with a spill-resistant lid, ensuring it withstands the rigors of travel. Enhance your Christmas tumbler ideas by including travel essentials such as a compact travel pillow, a versatile travel adapter, and a stylish passport holder. 
Adventure Ideas For Your Friend's Christmas Tumbler
Curated sophisticated Christmas tumbler designs gift set for coffee enthusiasts by selecting stylish tumblers alongside artisanal coffee beans and flavored syrups. Ensure the tumblers have ergonomic designs, ideal for both home and on-the-go coffee enjoyment. Include information about the coffee's origin and tasting notes to enhance the connoisseur experience. 
If you're finding Christmas gifts for men who have everything, select a tumbler featuring inspiring quotes. Select quotes that resonate with each friend's personality and aspirations. Opt for elegant typography and vibrant colors to enhance the visual appeal. Consider tumblers with spill-proof lids for practicality. 
Explore a curated collection of Christmas tumbler designs tailored for friends and it's also perfect for teacher tumbler ideas if you're looking for, blending aesthetics with functionality. Whether it's a sophisticated java lovers set or a spirited cocktail kit, these ideas transform ordinary tumblers into delightful gifts that reflect the uniqueness of your friendships.
Xmas Tumbler Ideas For Your Colleagues' Gift
Spread the holiday cheer at the workplace with thoughtful Christmas tumbler ideas designed exclusively for your colleagues. From desk essentials to virtual cheers kits, these curated suggestions promise to bring warmth and camaraderie to your office festivities.
Desk Essentials Tumbler Set
Enhance your colleagues' workspace with funny Christmas tumblers set that go beyond the ordinary. If you're a boss, you can consider it for one of 12 days of Christmas ideas for employees. Include practical desk essentials like quality pens, notepads, and a stylish tumbler designed for office use. Choose tumblers with ergonomic features, such as spill-resistant lids and heat retention. 
Chistmas Tumbler Ideas For Your Colleagues' Gift
Virtual Cheers Video Call Kit
Cater to the needs of remote colleagues with a virtual cheers kit. Pair matching tumblers with a scheduled video call for a shared celebration. Ensure the tumblers are durable and suitable for both hot and cold beverages. Include a personalized message to convey the warmth of the season despite physical distances. 
Customized Company Logo Tumbler
Boost team spirit among colleagues with funny Christmas tumblers featuring the company logo. Choose high-quality tumblers that align with the corporate aesthetic. Consider customization options that seamlessly integrate the logo into the design. This idea not only promotes a sense of unity but also provides a practical and professional gift for colleagues. 
In this collection, discover a range of Christmas tumbler ideas perfect for gifting to colleagues, combining functionality with a touch of festive spirit. Whether it's enhancing their workspace or fostering connection through virtual celebrations, these ideas make for thoughtful and professional gifts that resonate with the holiday season.
How To Clean And Store Christmas Tumblers Between Seasons
Preserving the festive charm of your personalized Christmas tumbler extends beyond the holiday season, requiring thoughtful care and storage strategies. In this guide, we'll explore the optimal techniques for cleaning and storing your cherished tumblers, ensuring they emerge from hibernation in perfect condition for the next festive celebration.
Start the process by handwashing your Christmas tumblers. Use mild dish soap, warm water, and a soft sponge or cloth. Avoid abrasive scrubbers to prevent damage to any delicate designs or embellishments.
How To Clean And Store Christmas Tumblers
After washing, allow the tumblers to air dry. Place them upside down on a clean, dry towel to ensure proper drainage. Avoid using towels or cloths that may leave lint residue on the tumblers.
Use Soft Storage Materials
When it comes to storing your Christmas tumbler ideas, opt for soft materials to prevent scratches. Consider wrapping each tumbler individually in soft tissue paper or cloth. This protective layer adds an extra barrier against potential damage.
Resist the temptation to stack your Christmas tumblers. Stacking can lead to scratches and may compromise the designs. Store them upright in a single layer to maintain their pristine condition.
Choose a Cool, Dry Location
Select a storage location that is cool and dry. Avoid areas with direct sunlight or extreme temperatures, as these can impact the vibrancy of the designs. A consistent and moderate environment is ideal for preserving the tumblers.
Store in Decorative Boxes
For an added layer of protection and organization, consider storing your Christmas tumblers in decorative boxes. This not only safeguards them from dust but also adds a festive touch to the storage process.
By following these meticulous steps, you'll ensure that your Christmas tumblers emerge from storage just as enchanting as when you tucked them away, ready to bring joy to the next holiday season.
Conclusion
As you embark on the journey of selecting Christmas tumbler ideas, remember that each design is a canvas for spreading holiday joy and warmth. Whether opting for cozy comforts, vibrant wonderlands, or whimsical snowscapes, let your creativity shine, and gift a piece of the holidays with a custom tumbler that captures the magic of the season.